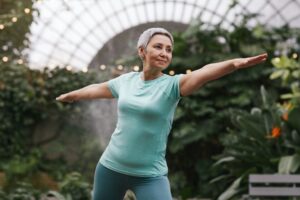 Whether you're a beginner or an experienced yogi, outdoor yoga is a fantastic way to enjoy nature while focusing on your inner and outer self. And the challenge of practicing on uneven surfaces helps improve your balance and stability. Let's get moving!
The patio construction rules out the possibility of outdoor yoga at the Center this summer. We changed the location to McKee Farms Park, on the lawn near the Kids' Crossing playground.
The six-week series runs 9:00-10:00 each Tuesday from May 23 through June 27. (The first class will be from 9:00-10:15 to allow time for explaining poses.)
All are welcome for this free series. Bring your own mat. If the day is chilly, include a sweatshirt of throw for savasana.
Free Summer Outdoor Yoga
Where: McKee Farms Park
When: Tuesdays, May 23-June 27
Time: 9:00-10:00 a.m.
Linda Gorchels, your guide, holds RYS 200 yoga and yin yoga certifications from Yoga Alliance. She taught two outdoor yoga series for the Fitchburg Community/Senior Center last summer.